I find it kind of fun to let you know where and how I'm writing from at any given time.  Before kids, it's like "hey reader-folks, I'm comin' atcha from a DESK!!"  Now, I am literally in the supply closet at work, pumping so Liam can ride this breast milk wave as long as we can.  Pumping is not a ride at the amusement park, so I'm sort of hunched over, with my right hand slipped underneath the bottle on the right side.  I also wore a dress to work today, so I had to take the entire thing off, and make sure I locked the door.  My left side is all done, so I just keep dripping milk from the flange on that side, onto my thigh, so I should be good and sticky for the remainder of the evening.  I truly feel like such a glamorous woman right now.
I had so much fun writing this post last year, that I had to do it again this year.  Of course, this was before…you know what?  Let me not spoil this list.  Let's just get to it.
5.  The Cincinnati Zoo and the Harambe memes.
The story of the decision that the Cincinnati made to shoot Harambe, the gorilla at the Cincinnati Zoo just sucked.  To  me, it seemed like the zoo was put in a really impossible situation.  What followed after was some heated debate.  The sanctiparents said some awful things, including that the mother should have been shot instead.  I think everyone was collectively really sad for the loss of the life of the gorilla.  We were all really glad that the child was okay, but the gorilla was just being a gorilla, and no one wanted to see things end like that.  But since 2016 has no chill, the situation got really, really out of hand.
There were the hashtags. Annnnd then came the memes. They were really weird.  They were terrible.  And they were really, really, funny.  I won't publish any here, because I don't want you to think I'm a terrible person, but first you'd laugh, and then groan.
In a really mystifying move, the zoo, un-amused,  issued a statement.  And basically told everyone to knock it off with the memes.  Bad, bad, bad move.  That's not exactly how the internet works.  Which I feel like most of us know, but that's kind of lost on some folks.
The response was a resurgence of #dicksoutforHarambe.  And a swell in the memes.  Because the internet is both a wondrous and terrible, terrible place.
4.  Anna Davies.  And she's not fascinating in a fun way. 
In April of this year, Anna wrote this article that went a little viral for the wrong reasons.  "I want all the perks of maternity leave – without having any kids" I read the article, and though I had never taken maternity leave before, I knew something was very, very wrong with the article and its author.  She referenced leave as having "perks".  She compared having to leave the office at a reasonable time to pick up ones children to helping a friend off of a bad date.  She said that parenthood provided the parent "flexibility" as it pertained to work?  Can I remind you that I'm writing this from inside a supply closet?
It just all seemed really really wrong.
And then I left my job for 12 weeks unpaid to have Liam.  Even though I had grand plans during that time to catch up on things, maybe clean my house, none of that happened.  I bled for like 5 of those weeks, took Liam to doctor appointments for weight checks and shots, camped on my parents' couch when we lost power during Hurricane Matthew, tried to master breastfeeding, worked out a clogged duct, started pelvic floor PT, and tried to keep my hair from falling out.  I'm not sure where in that augmented list of learning, that Anna thought that maternity was some sort of vacation, but she is grossly, grossly misinformed.  And it's a shame that someone with so little insight has a fairly large platform.
3.  Beyoncé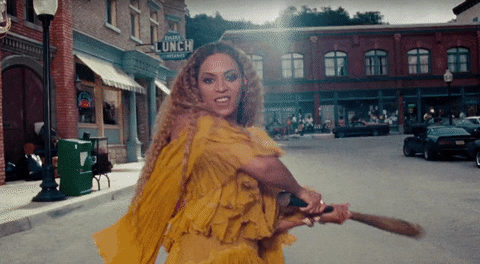 I think it was Twitter, or one of the blogs that broke 'Lemonade'.  It was cold out, I was already pretty uncomfortably pregnant, and per info circulating online, HBO was doing a free preview weekend that would allow viewers to watch the special.  And it did not disappoint.  Start to finish, Bey told a complete story, and I don't think a single track disappointed.  Later on this year, Solange would go on to release a hit album, proving that the Knowles girls were having one of the best seasons ever.  Queen Bey went on to tour, where I found myself being evacuated due to some nasty weather mid-show, killed it at the VMAs, and made an appearance the morning I had Liam.  I should have known it was going to be a good day.
2. The choker.  Not a person.  But important. 

I really didn't want to give into this one, but I will admit, I wore a tattoo-style choker in the 90s. The Jenner girls started wearing chokers this year, along with flared jeans, and I wasn't sure in my current state of mom if I could pull it off. But I'm giving in. I'm wearing grungey tops (easier to nurse in) and I'm gonna put a choker on. I'll document for bloggy evidence.  But I think I look okay, and not completely foolish.
1. I have got to give this one up to none other than Issa Rae. 
I fell in love with Issa during 'Awkward Black Girl," her YouTube series that I felt, sang my entire life. I was so, so, happy, and nervous to see that she'd scored an HBO series, nervous only because I wanted her humor to translate, and for people to get her. They totally did, and her series, Insecure, did not disappoint in the least.  It was smart, funny, and contributed to what I feel like is a renaissance of black artists in 2016.  I cannot wait for season 2, and if you haven't watched, you have got to get on that. Congrats Issa, on a really really successful run!
Honorable mention goes to…
Taylor Swift.  And if I had room for one more on my list-list, she would be on it.  This woman is a lot more calculating than we know.  She found herself in a bit of hot water this year after playing the victim solidly regarding Kanye West's Famous vid.  Kim wasn't having it, and released some unflattering footage via Snapchat?!  It wasn't a good look, and after releasing a statement via iPhone notes (?) she sort or disappeared.  I was really disappointed in that.  But I'm anxiously awaiting new music from Miz Tay and Perry.  Tee-hee.
Kim Kardashian and Kanye West. Hear me out.  And I'm planning this huge piece on the family.  I've been studying them for a long, long time.  But the year started out really well for them.  Minus Kanye claiming, in a strange series of tweets, insurmountable debt, Life of Pablo came out, and was received as one of the best albums of the year.  The tour looked incredible.  And then the year took a bizarre and scary turn when Kim was robbed at gunpoint during Paris Fashion week.  And then Kanye was hospitalized for exhaustion after a rant that made it clear that making fun of him wasn't funny anymore, that something was really wrong.  I really would love to be a fly on the wall in that home, but really because I'm curious, not because I want to poke fun at what seems to be a tough situation.
Zayn Malik.  Whew buddy.  Lookin' good sir.  Congrats on the success after leaving 1D.  I'm not mad at the album, or Pillowtalk.
OJ Simpson and 90s crime in general.  2016 saw no shortage in specials related to really strange crime.  I watched a lot of OJ stuff, including FX's special on his involvement in the murders and later, kidnapping in Vegas.  I tried to watch the JonBenet specials, but they really made me ill. I haven't been able to get through one of those.
On a lighter note, Joanne the Scammer.  She brought me endless laughter in an otherwise really weird year.
Ok, so in a tough, weird year…who are your most fascinating folks?